A queen through and through, Pia Wurtzbach lives out her disco diva fantasy with a RuPaul's Drag Race transformation that had our wigs snatched.
Related: Pia Wurtzbach Celebrated Christmas Up North… And This Is Why You Should, Too
A decade since the premiere of the cultural phenomenon that is RuPaul's Drag Race, spanning 11 seasons, 4 runs of All Stars, and spawning of several spin-offs and international syndication, it has become increasingly difficult to carve out a moment that will make one shoot their hands up in the air, fingers wildly snapping, followed by an aggressive shrieking: "Yasss, queen!"
Everything has been done at this point to have our wigs snatched: from the emotional shake down of rose petals, a runway walk on stilts, and an unintentional snapping of a pearl necklace that proved to be a fitting climax to a cathartic lip sync performance—and these aren't even half of the epic moments from the show that had us shaken to our cinched, tucked, and sequined cores. Needless to say, it will take a considerable amount of charisma, uniqueness, nerve, and talent to leave us gagging for more, and this couldn't have been more realized in the mad dash for a memorable effort by the queen of the north herself, Brook Lynn Hytes in the eighth episode of the recently concluded season 11.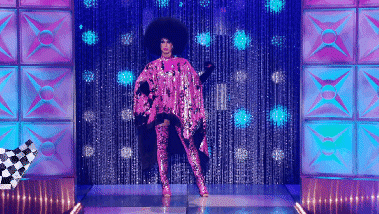 On the Sequins On The Runway-themed catwalk, Brooke Lynn Hytes took command of her questionable fate on the episode by sauntering down in a Pam Grier-inspired pink glittered poncho number with matching sparkling thigh-high boots to match. Without a second to spare, the erstwhile danseur twinkled and twirled to reveal a skimpy coordinating bodysuit that definitely pulled out all the stops. "I will light that runway on fire," she said before setting it ablaze with multiple spins and a drop to the floor.
No stranger to drag queens and impersonation, being a pop culture icon that has been imitated and even parodied countless of times in LGBT spaces such as O Bar, Miss Universe 2015 and ally Pia Wurtzbach has actually long been dreaming of being involved in something of that sort. "The first time I visited O bar was a few months ago and I immediately told myself: 'I wanna be part of that show!' I saw an opportunity, to have the Pianatics Christmas party there, so it's a win for everyone," she enthuses. "I always love dressing up and being a disco queen for the night was on my list."
For the annual gathering of her fans and supporters turned friends, the Pianatics Disco Night was conceptualized as early as November 10, 2019. "I remember getting really excited just thinking about the theme, the design of the place, the songs, and the costumes," she reveals. "There was even a day dedicated for learning and rehearsing the dance. With a very hectic schedule, it was made sure that it will be a major pasabog." Decorated with colored streamers, balloons, and mirrored laser lights, O Bar turned into a true disco for a night, that had everyone getting into the groovy 70s fever. With a lip sync battle that naturally saw a Pia Wurtzbach character, as well as of Elsa letting it go, pumping up the crowd, it was time for the night's biggest draw: the queen herself in a dance number she worked hard on.
Going with the night's glinting and gleaming theme, Pia Wurtzbach went for a fun and sexy disco queen look, where she was swathed in a fuchsia sequined poncho inspired by Brooke Lynn Hytes, but this time with flared trousers and a black 40-inch wavy diva wig styled by Renz Pangilinan.
As a fan of the show herself, she knew she wanted to go extra for her special performance. "I love all the amazing transformations, reveals, and pasabog that they do on the show," she beams. "I was talking to my hairstylist Renz about the hair peg for the party, and then he showed me a video of Brooke Lynn Hytes doing this jaw-dropping transformation on stage. I said: 'I wanna do that!'
Shimmying, emoting, and turning her beat around to the music, Pia Wurtzbach made a spin to reveal what was actually a Selena-inspired jumpsuit by Neric Beltran and in true wig snatch fashion, a blonde ombre wig underneath. "We wanted maximum impact with the styles and color," details Renz Pangilinan. "So, the blonde was more modern and sexy, while the black was classic disco diva."
With a lack of time to study the full effect, the reveal was actually just rehearsed backstage at O Bar that night. (Talk about a fast and agile learner, because trust us, these exposures aren't easy to pull off.) "I actually almost made a mistake also," shares Pia. "If you watch the video again you'll see that I hesitated for a split second, but figured out what to do right away and bam!" If the thunderous applause and decibel-threatening screams were to be the judge, you best believe Pia Wurtzbach scored 10s, 10s, 10s across the board. And perhaps the best validation of this it-takes-a-village effort has to be the stamp of approval from Brooke Lynn Hytes herself as she responded to her Instagram post with a resounding: "Queen!!!!"
More than the novelty of the night, as well as of the turn to the revered art of drag in its near religious-like experience, the whole spectacle was about really about a celebration of the holidays, of the year that was, and most importantly, of each other's company. "Not to sound like a pageant patty, but nothing makes me happier than making other people happy. We've really come so far as a family. The Pianatics started in 2013 and we were only a small group then, doing get together over ice cream and fries in Araneta Coliseum. Slowly we started growing," she ruminates. "I'm very grateful that the Pianatics are still around after all these years. They were my strength when I was competing, and this is my way of giving back to them. I may have passed on my crown four years ago, but I will forever be grateful to them for all the love and support."
Wigs, heels, and lashes aside, she definitely has this queen thing down, no doubt.